Photo: Christian Radich/Fullriggeren Sørlandet
– We are very proud to have been co-partner for the installation of bow thrusters on the venerable Christian Radich. Our goal has all the way been to satisfy the great full rigger's need for a thruster solution, without affecting speed and sailing characteristics, says general manager Marius Øverland in Trosvik Engineering AS.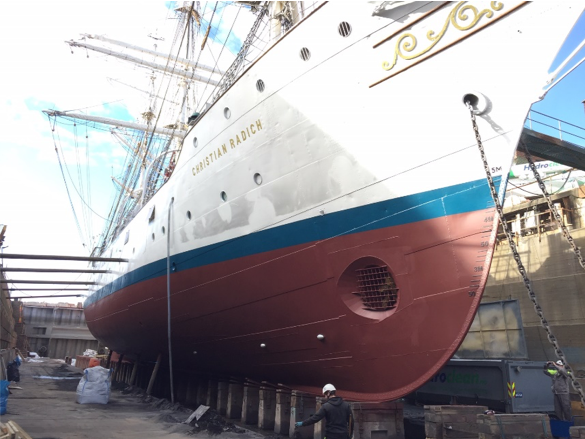 S / S Christian Radich is a Norwegian 72.5 meter long three-masted full rig that was built and delivered by Framnæs Mekaniske Værksted in Sandefjord in 1937.

– Trosvik Engineering has carried out the engineering work around the installation of the new bow thruster and made production drawings for attachment and profile of the thruster in the hull, says Marius Øverland.v thrusteren i skroget, forteller Marius Øverland.
– The bay thruster itself is supplied by Kongsberg Maritime, while our partner Horten Skipsreparasjoner AS, has carried out the installation work in the dock. Trosvik Engineering has contributed its experience and knowledge throughout the project. A good collaboration between the partners along the way, has contributed to as optimal a result as I think is possible, says Øverland.

We congratulate Christian Radich on a successful installation of bow thrusters and hope it satisfies the ship's needs – and thus without affecting the great full rigger's speed and sailing characteristics.